OUR DEPARTMENT
One Badge – Unlimited Opportunities!
The Cobb County Police Department is a professional and innovative policing agency with state and national accreditation. We are committed to our core values of Honor, Integrity, Professionalism, Courage, Commitment and Respect and proud of the relationships and support we have in our community.
We are the lead law enforcement agency serving a county of 345 square miles and over 760,000 residents on the northwest side of the Atlanta metropolitan area. With an authorized strength of over 700 officers, the department operates out of 5 precincts and has over 25 full and part-time specialty units.
The Cobb County Police Department has a diverse opportunity of assignments for you to pursue any passion while serving the community. The ability to move around precincts and through multiple specialty assignments, combined with abundant opportunities for promotion, will keep each day exciting, challenging and rewarding throughout your career with Cobb County. We provide exceptional training and state-of-the-art equipment to prepare you for success and we look forward to you accepting the challenge to be the best and joining our family at the Cobb County Police Department.
Chief's Office
This email address is being protected from spambots. You need JavaScript enabled to view it.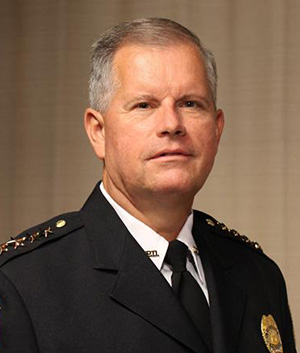 Chief Cox has been a Cobb County resident for over 50 years and graduated from Marietta Christian High School in Marietta, Georgia in 1981. He attended Kennesaw College and began his career with the Cobb County Police Department in 1985.
During Chief Cox's tenure with the Cobb County Police Department, he has served assignments in the Uniform Patrol Division and the Special Operations Division as an officer, sergeant, and lieutenant. He has also served as the Adjutant to the Police Chief and two Deputy Police Chiefs and the commander of the Administrative Division of the department.
Prior to his assignment as Chief, he served as a commander of Precinct 4, Precinct 5 and the Organized Crime Unit. In 2013, he was promoted to the rank of Deputy Chief of Police and assigned to the Support Operations Division. In 2019, Cox was promoted to Chief of Police.